Monday, Memorial Day. It's a day for American's to remember those who gave EVERYTHING for us to have the freedoms that we do. For us to be able to flaunt all that we do. Memorial Day is a day to thank the families of those that made that ultimate sacrifice so that we could continue on living the life that we live.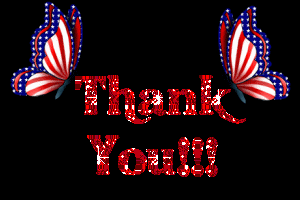 These two words just don't seem like enough but they are all that I have to offer to the families that have lost so much.
Today isn't about having a day off from work, its not about the backyard BBQ, or any of that. It's about the following...
Not just these men and women that died, but about the ones that came home injured in more ways than we could possibly imagine.
So do me a favor...
Now, with all that being said.... Please enjoy your freedoms because they came to us for a price that these men and women willingly paid. :)
However, if you would like to give back to them, if only a bit? Write to a soldier. Just google "How to write to a solider" and you will be surprised how many forums there are. Go through the list carefully however because there are a number of scams out there. One I found is:
http://soldiersangels.org/letter-writing-team.html
If anyone asks you for money - its a scam. Pure and simple. Sad but true.
Anyway, until tomorrow my darlings! :)
~April